In some cases you require exports of a specific set of calls on a schedule. For example for the integration with Callbi. This explains how to create a Group and setup the export method.
Create a Group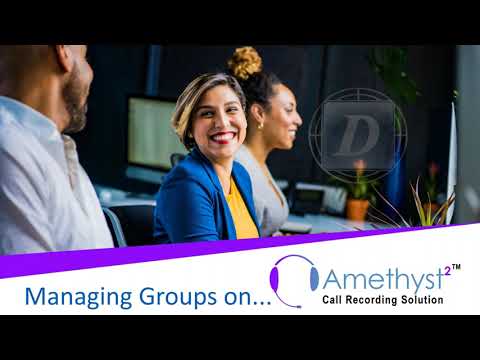 Required Permission:
ADMINISTRATIONS MENU
GROUP ADMIN
GROUP LINK MAINTENANCE ADMIN
GROUP USER MAINTENANCE ADMIN
LINK OR UNLINK GROUPS
If the existing groups contain users that shoud not exports, you can create a new Group.
Click on ADMIN → Add/Change Group
Enter the Group Name and click Apply.

Click on ADMIN → Group Diagram
Your group should be linked to the top group you have access too.


Click ADMIN → Group User Maintenance
Select your Export Group in the dropdown list.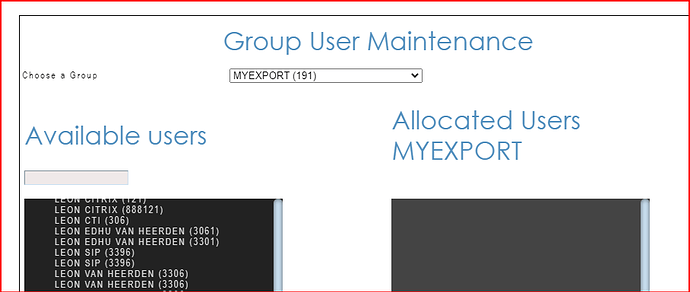 The list on the right contains the users that are currently included. It should be blank.
To add a new user,
Find the extension in the list on the left
Single click on the user The user should now show as selected. Multiple users can be selected like this. The list will stay selected until they are moved or unselected.
Click and drag the selected entry to the box on the right If more than one user was selected, they will all be transferred.
The Apply button will now become available. Click it to save.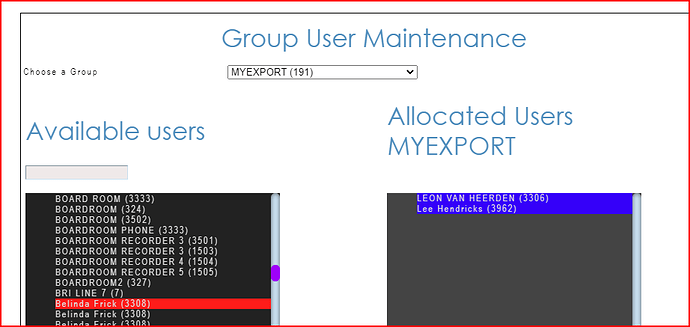 Search template
Required Permissions
USE FTP
SEARCH FTP BUTTON
MAINTAIN SEARCH TEMPLATES
Setup a Search Template just for this group.